Recently the state of Colorado passed a law that imposes a fee on all deliveries made to the state. This tax impacts all ecommerce businesses that deliver physical goods to customers located in the state of Colorado.
Colorado Retail Delivery Fee law
Here is an excerpt of the site describing the fee:
Effective July 1, 2022, Colorado imposes a retail delivery fee on all deliveries by motor vehicle to a location in Colorado with at least one item of tangible personal property subject to state sales or use tax.

The retailer or marketplace facilitator that collects the sales or use tax on the tangible personal property sold and delivered, including delivery by a third party, is liable to collect and remit the retail delivery fee. Deliveries include when any taxable goods are mailed, shipped, or otherwise delivered by motor vehicle to a purchaser in Colorado.

The retail delivery fee is due at the same time as your sales tax return. Returns are generally filed on a monthly basis and must be filed on or before the 20th day of the month following each reporting period. Retailers permitted to file state sales tax returns on a quarterly, annual, or other basis will file the retail delivery fee return on the same schedule.

The retail delivery fee will be reported and paid on a new return, the DR 1786 form. The retail delivery fee is collected state-wide, does not need to be separated by jurisdiction, and is calculated per sale. The retail delivery fee is made up of six different fees. The rates are listed below.
The full post can be reviewed here.
How to add Colorado Delivery Fee to your WooCommerce store
Our plugin WooCommerce Fee Manager can determine if a package will be shipped to the state of Colorado and can add a fee.
The first step is to purchase and install the plugin.
Next, Add a New Fee and add a title of "Colorado Retail Delivery Fee". This is the text that will be shown to the customer on Checkout and in emails.
Fill out the data meta box with these settings:
Add a fee amount: 0.27
Change Apply Fee to "One time per cart"
Leave Taxable unchecked
Leave Tax Class as Standard
Add a Condition Group
Set the Condition to Shipping State
The compare will be "Equal"
Set the state field to Colorado.
This is what the fee should look like: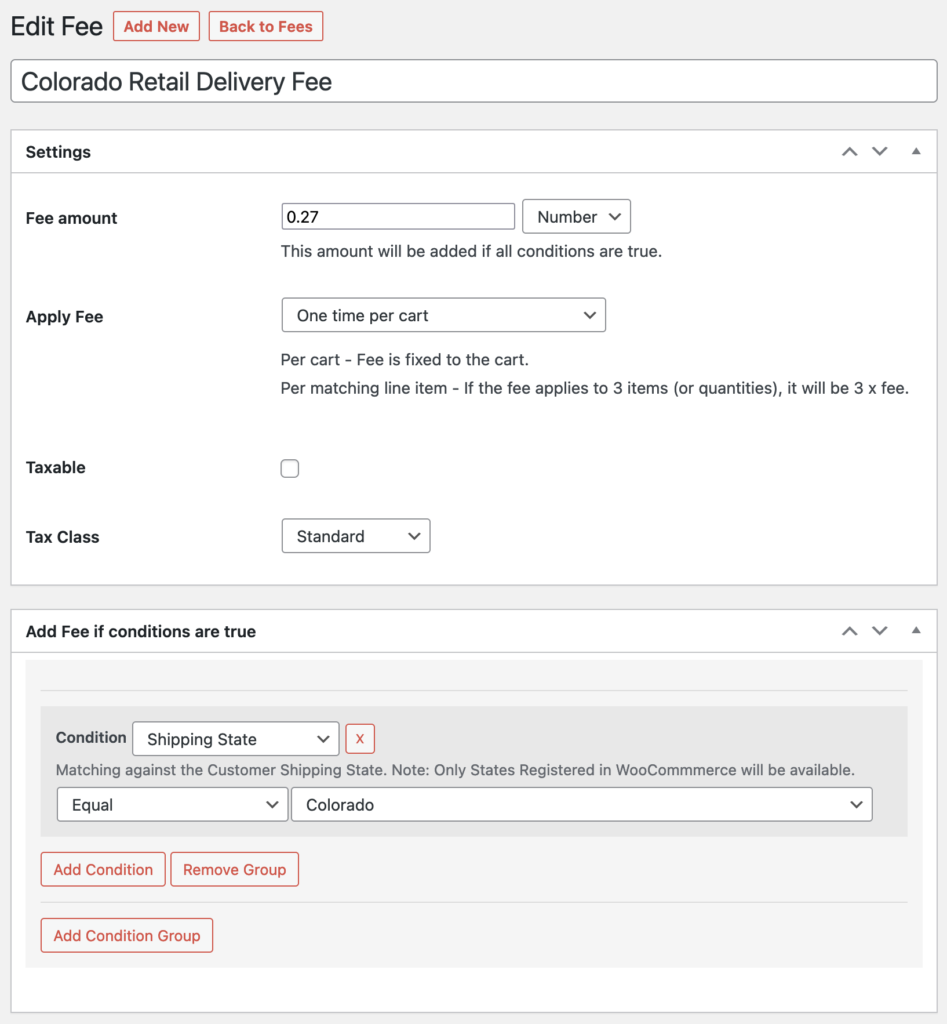 Publish the fee and test by adding a product to your cart. Set the shipping state to Colorado and you will see the fee added to the order details.
Conclusion
WooCommerce Fee Manager provides a quick and easy way to add fees based on specific conditions. In this case the condition of "shipping state equals Colorado" is a condition well suited to this plugin.
Happy selling!