What's better?
A common question we receive from customers is, "What's the best plugin? Do I need Toolbox or Subscriptions Schedule?"
The answer to that question depends on what you are looking to accomplish in your shop. Both plugins will add some extra conveniences to your store. Let's take a look at the key features of each plugin to help you determine which one is right for you.
Toolbox for WooCommerce
Toolbox is a plugin designed to enhance the subscriber's experience and ease the workload of the store manager. If you're looking to provide your subscribers with self-service options for their subscriptions, you need this plugin. Toolbox for WooCommerce will add additional features to the customer account page, like skip a payment, change quantities, change the frequency and allow customers to ship their subscription now.
To enable these added features you'll need to have WooCommerce Subscriptions installed on your store site prior to installing Toolbox.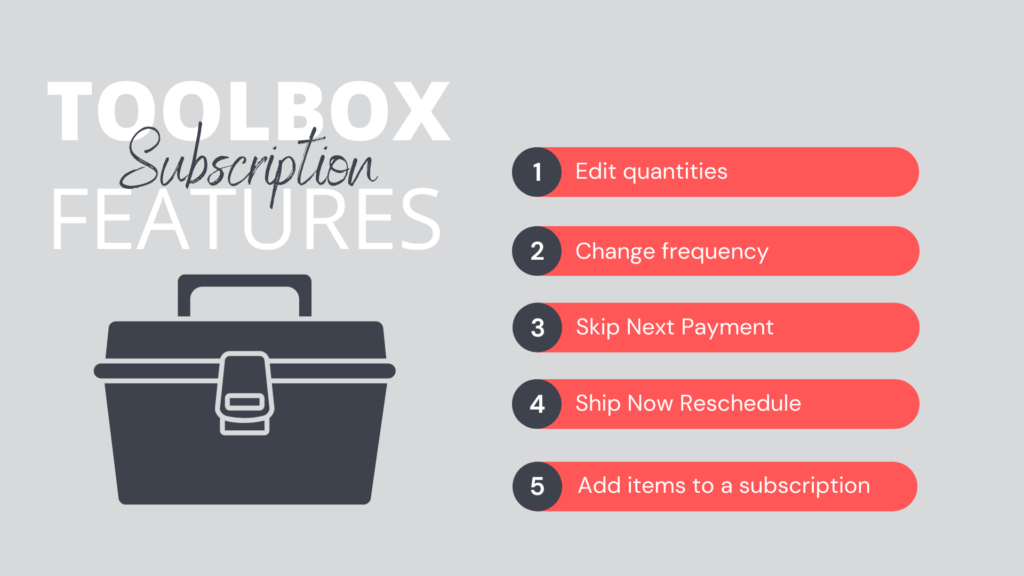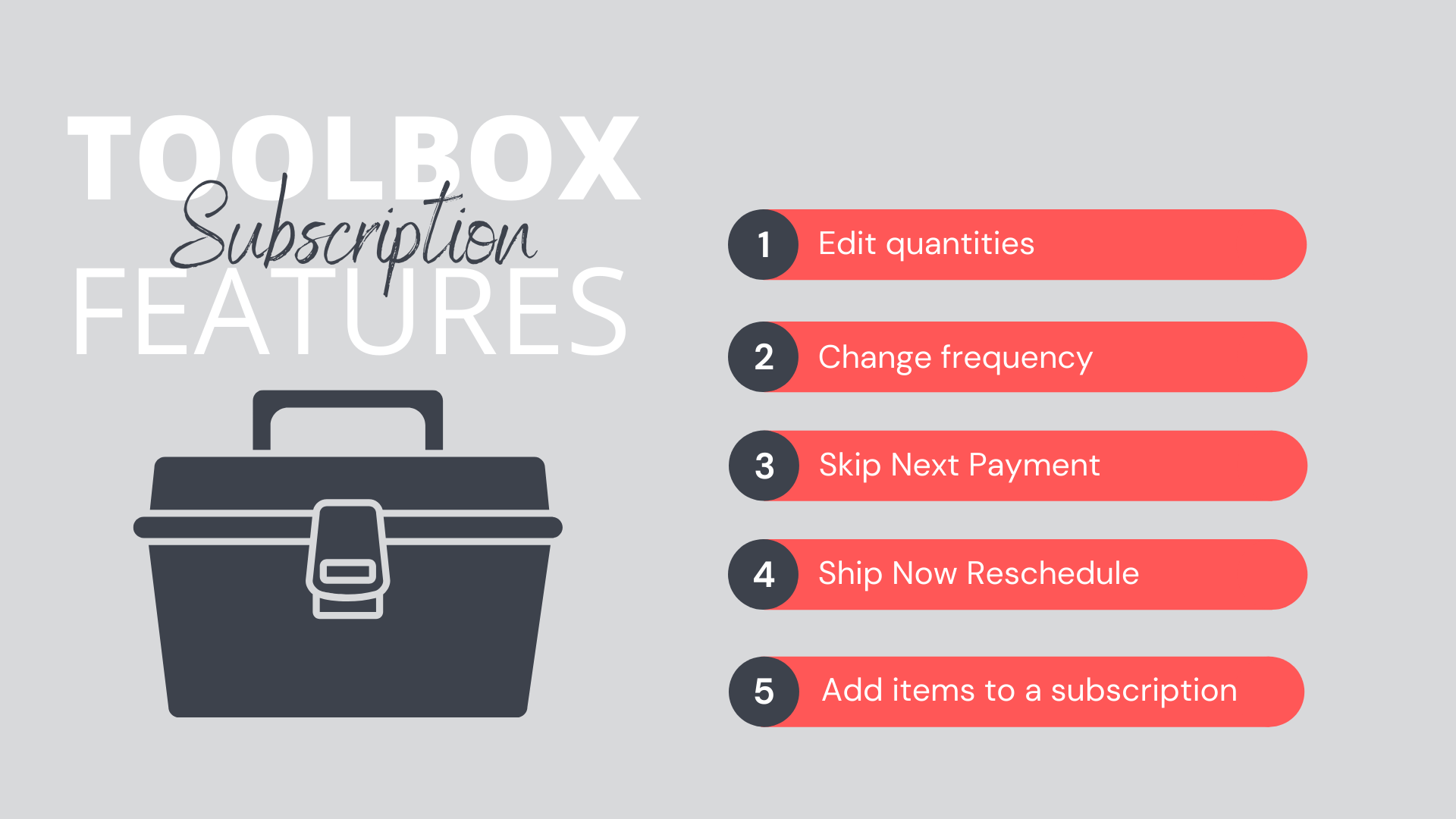 You can find a detailed overview of what each of these new options will do by visiting our docs page.
Toolbox makes things even easier for your current subscribers by giving them the option to add items to an existing subscription without going through the checkout process. That's right! For any product in your store, a drop-down menu can be added at the product level to enable this option. When the customer is viewing the product page the drop down will appear just under the Add To Cart button.
No checkout. No hassle.
One recent study noted by giving subscribers the option to change a subscription, whether it's to pause, or move their renewal to a more convenient time builds trust and will reduce cancellations.
All shop owners can agree less churn and more long-term subscribers, the better. If that ticks the box for your eCommerce business then adding Toolbox to your store is a no-brainer. Many of our customers use this plugin for membership sites, selling subscription boxes, or other subscription services.
What about WooCommerce Subscriptions Schedule?
Have you ever found that the standard WooCommerce Subscription renewal dates just don't work for your subscription? Your store requires flexibility when it comes to renewal dates.
Look no further, this is where the WooCommerce Subscriptions Schedule plugin comes in. Once installed on your site custom renewal schedules can be created and assigned to any product, even those with variations.
The new custom renewal schedule will now override the WooCommerce default renewal schedule.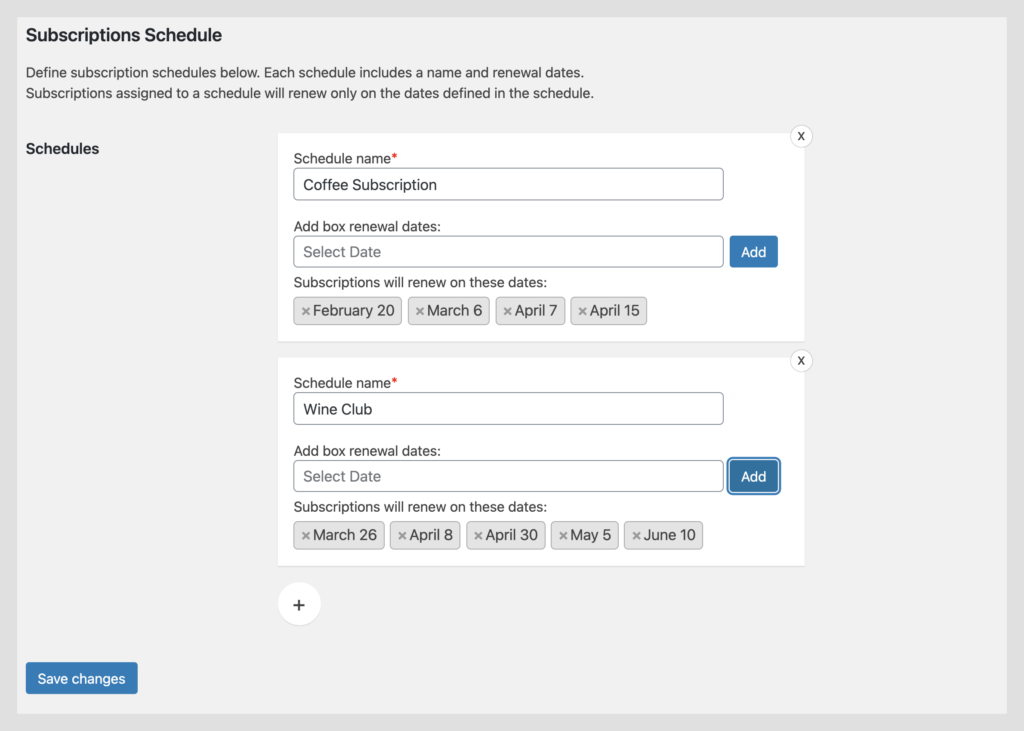 Whether you're offering coaching classes or starting registration for an e-learning program, Woocommerce Subscriptions Schedule will let you create the desired renewal schedule suited to your shop. For store managers who have specific shipping dates, this plugin will allow you to set a renewal schedule to match. You will need to have WooCommerce Subscriptions installed on your site for this plugin to function.
The Best Tool for Your Shop
What do I need? Toolbox or Subscriptions Schedule? Both are amazing and powerful WooCommerce plugins designed to accomplish different tasks.
We recommend taking a look at our product pages and FAQS to get even more information on Toolbox and Subscriptions Schedule. Of course for those of you who are undecided or have any lingering questions you can always reach out to us!