It's no secret over 1.8 billion people shop online. If you're an eCommerce business you're probably trying to herd a few of those people in your direction, waving your virtual flag to get them in your store. We completely understand. In 2020 alone, there were 5.2 trillion dollars (5,200,000,000,000) spent in global digital transactions. A colossal amount of those transactions 63% or 3.276 trillion dollars were in Digital Commerce alone.
While e-commerce continues to grow, you may have noticed cashless payments are no longer the wave of the future but a reality. Many people prefer to shop online using e-wallets, one-click payments, or even cryptocurrency. Payment methods that for some of us didn't even exist in our vocabulary until recently. In fact, an entire ecosystem has been built just around digital payments.
Keeping up with the latest payment trends can definitely be a challenge. The good news, it's not an entirely impossible task. But it may require a bit of trial and error to find the right payment solution for your store. You need to start by choosing a payment processor that will work with the payment methods your customers will be using. Simple enough right?
If you have made any recent visits to the WooCommerce Marketplace and searched for payments you may have noticed there are currently 66 extensions available for adding payment options to your store. WooCommerce itself boasts they work with over 100 plus payment gateways. Alright, so there are more than a few options to sift through. How can you determine which payment processor or gateway to use?
Payment Processor vs Payment Gateway
Let's start first with explaining the difference between a payment processor and payment gateway.
Payment processors generally require you to set up a merchant account, this is different from a regular business checking account. Processors more or less move the funds from one account to another. You can think of them as the facilitator.
The payment gateway is what keeps all of the sensitive information secure during a transaction. The gateway encrypts the credit card data and shares it with the necessary parties, verifying the funds are available so the order can be completed. They are kind of like a stealthy background checker, doing all of the sleuthing on your customers within seconds.
Some companies like Stripe or Paypal combine both functionalities into one and are known as payment aggregators. Stripe prides itself as being an all-in-one solution, they will not work with your existing merchant account. While Paypal also offers an all-in-one solution with their Paypal Commerce Platform. They do have other options available that allow you to use your own processor with Paypal as the gateway.
What About Both?
If you're still wondering, do I need a payment processor or a payment gateway? The answer is you need both, unless you're using a payment aggregator as mentioned above. Oftentimes eCommerce stores will utilize more than one payment gateway.
There are a number of benefits to using more than one payment gateway. One is you have a backup in case a gateway goes down. You can also improve your checkout process and reduce cart abandonment by allowing customers to choose their preferred payment method.
One study showed that out of 85 payment gateways processing transactions in US dollars there was a significant difference in decline rates. Not all payment gateways will perform equally. Some may do well in one country while others completely tank. Having multiple gateways will assure your success in global markets.
Another important reason to consider is the cost.
Payment Gateway Fees
Processing fees can add up. The average payment processing platform charges 2.9% per transaction plus a $0.30 fee. Think about this…if we calculate 3% of the amount paid to payment processors in 2020, based on the dollar amount of global transactions mentioned at the outset of this article. A minimum of $98,280,000,000 were paid for payment processing in 2020. Is it worth comparing various gateways? Absolutely!
You'll want to be sure and investigate the fees for both local and international shoppers before making a decision.
We also recommend reviewing our recent Tuesday Tips video discussing how you can use plugins like WooCommerce Advanced Pricing or WooCommerce Fee Manager to charge fees and discounts based on the payment gateway used at checkout.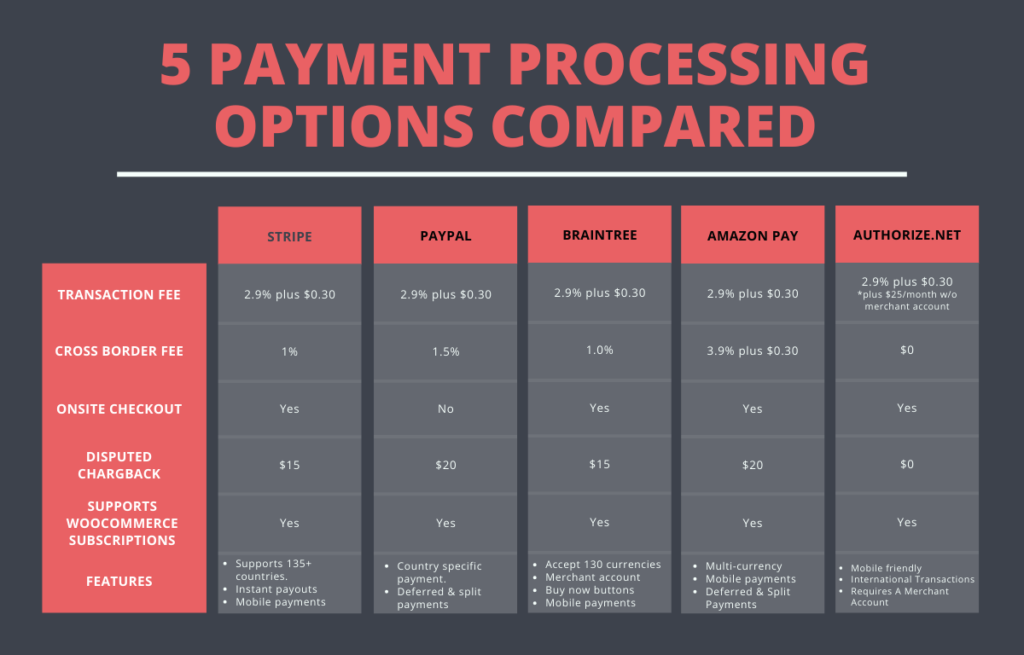 Security Features
When it comes to processing payments there is on-site and off-site processing. These can have a direct effect on the security of your customer's information.
For example, PayPal, one of the biggest payment solutions out there, redirects users from the merchant's website to Paypal in order to finish their payment process. Another example would be using a service like Stripe, where your customers will check out on your site and the payment will be processed off-site behind the scenes with Stripe. These are both examples of offsite processing the only difference is PayPal uses a redirect and customers can see they are sent off your website to complete the transaction.
The important thing for off-site processing is to make sure your site is never collecting the customer's payment information. This information should be gathered by the payment gateway and be encrypted at all times.
For people who choose to do on-site processing, this method requires an entirely different level of responsibility on your part. All of the information will be collected and stored on your site. This option gives you more control over your funds and the overall checkout process. We suggest weighing the pros and cons before selecting this route.
Most all-in-one solutions will say using a payment aggregator will improve the overall security involved with payment processing because you're keeping all of the sensitive data in one place. Whatever direction you decide to take you'll want to make sure security is of top priority, for obvious reasons.
Recurring Payments
As most e-commerce businesses are strongly driven by subscription services you'll want to select a payment gateway that supports recurring payments. On top of that subscribers will be upgrading, downgrading, and pausing their subscriptions. These are important features to verify your payment gateway is equipped to handle. It can have a significant impact on the growth of your business and user experience.
With that in mind If you're using WooCommerce Subscriptions to meet your store's needs, most of the payment plugins available in the WooCommerce Marketplace will support recurring payments.
Getting Paid
The waiting period for getting your funds can take some time if you're a new user. Each payment service has different guidelines. Some say the first payout will be released within 7 business days of your first successful transaction. While others have longer periods from 14-30 days before you see the funds hit your account.
After the initial period depending on the service and the form of payment the funds may be held for 2-5 business days before they're available. Some companies have payout schedules that can be set for daily, weekly or monthly to transfer collected funds into your bank account.
The digital payments ecosystem continues to support the ever changing virtual shopping environment. Payment aggregators are trending as a key player in processing your funds. As this market continues to grow and new forms of digital payment gain popularity we will surely see new players enter the game.
As always we encourage you to take time to research the latest trends and tools before implementing them in your store.
---
In review here are some key questions to consider when selecting a payment solution for your WooCommerce store:
Will I use a payment aggregator or processor and gateway combo?
Do your customers shop and pay using their mobile phones?
Will you allow foreign shoppers to pay with their local currency?
Do you have subscription products with recurring payments?
How easy is it to access the money once my clients have paid?
What security features are available to protect me and my clients?