As a WooCommerce shop owner, product pages are an essential part of your success. We live in a time where finding information has never been so easy. Buyers search the internet, browse a few product pages, maybe even read some feedback from other purchasers. And just like that, they've determined who their contenders are.
This is why optimizing product pages is so important. Not only will it help searchers to find the information they need but it will help you to stand out from the competition.
In this article, we're going to look at 4 ways you can optimize your subscription product pages.
1. Include Discounts for Prepaid Subscription Options
Show subscribers the benefit of paying for their subscription in advance. This provides the buyer with extra savings and gives your shop a predictable stream of monthly income.
On this product page, Universal Yums shows the benefit of paying for the subscription in advance. Subscribers will receive one month for free when they prepay for a year.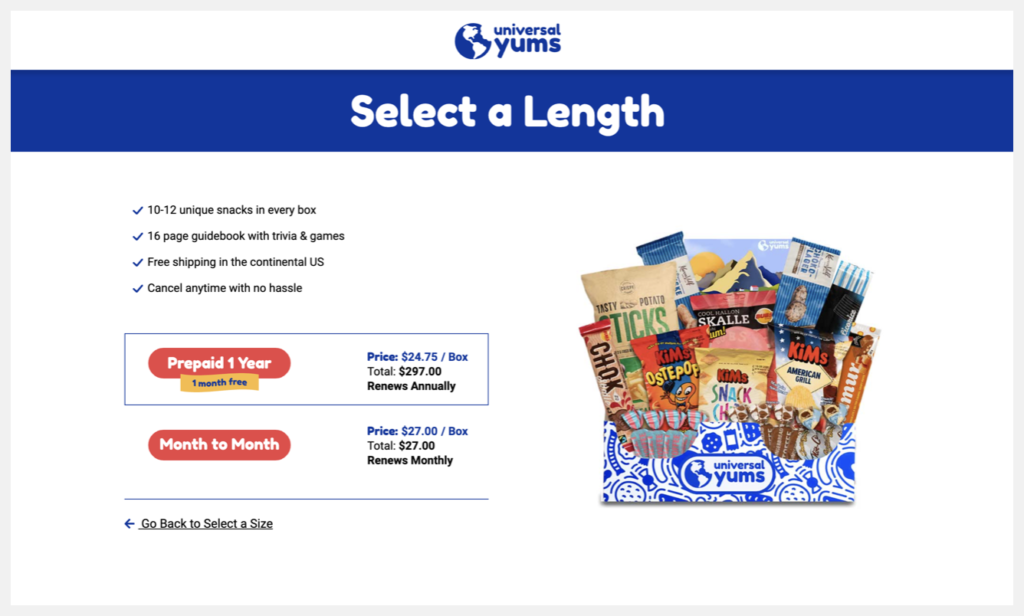 2. Show a Subscription Schedule
Most subscribers want to know when to expect their first shipment before completing the purchase. Consider adding this information on the product page.
Here we see Aromadi states the specific day the subscription will begin along with when the items will be shipped. Before purchasing, the expectation has been set. The subscriber knows when the subscription items will be shipped and on what day the subscription will renew.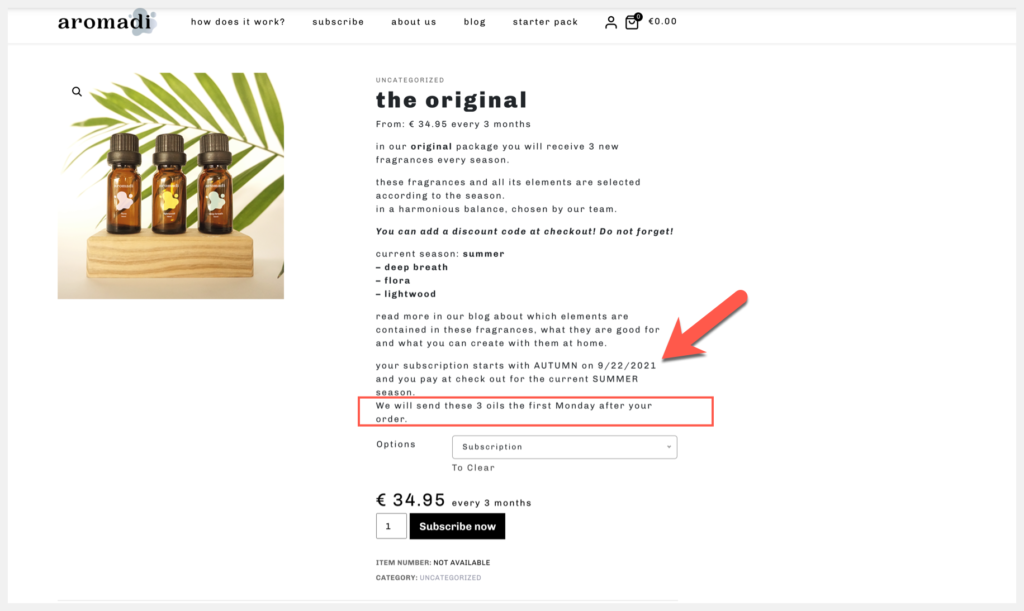 To create a custom renewal schedule using specific dates, we recommend the plugin WooCommerce Subscriptions Schedule.
3. Gift A Subscription to Someone Else
Working in customer support for a popular subscription-based company, one of the most commonly asked questions was, "How can I gift a subscription to a friend?"
Include this as an option on your subscription product page.
A good example of this is Loti Wellness. They take the guesswork out of gifting a subscription by including a button at the top of the page. Once on the page gift subscription options are displayed, along with savings for prepaid subscriptions and expected shipping dates.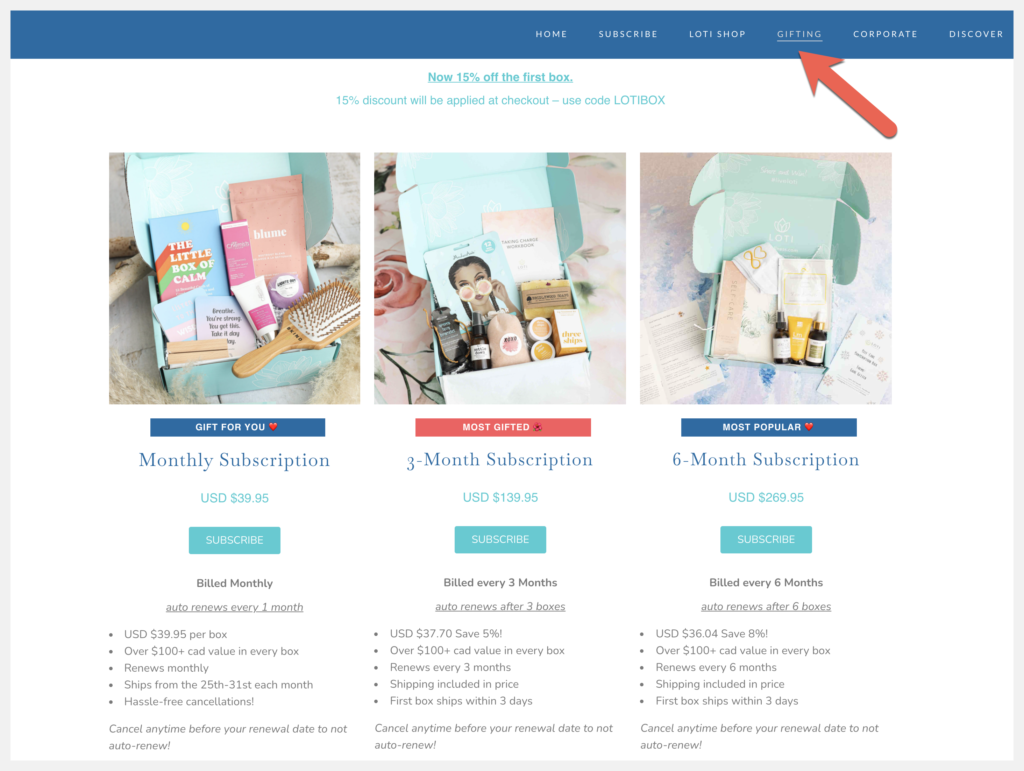 4. Add a Discount for Subscribing
Subscriptions are a great way to build long-lasting relationships with your subscribers. You have lower churn rates and can easily collect more feedback. The other benefit for business owners is that subscriptions provide more stability in knowing what to expect each month in terms of revenue.
Any product in your store can be added to an existing subscription using the plugin Toolbox For WooCommerce Subscriptions.
Use a discount to promote subscriptions within your store. In this example, Bixbi offers a 10% savings when buyers add an individual product to a subscription.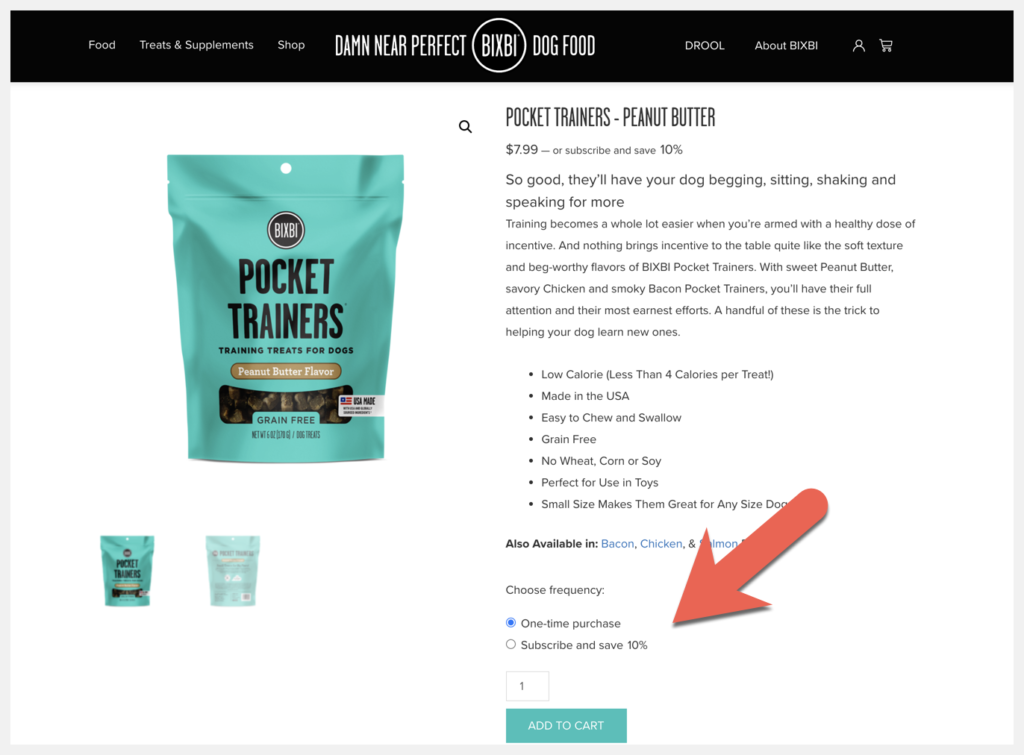 With the Toolbox for WooCommerce Subscriptions plugin, any product in your store can be added to an existing subscription. This makes it easy for existing subscribers to add single products to a subscription and will increase the monthly revenue per subscription.
Conclusion
The subscription industry has grown over 350% in the last 7 years! There's no doubt that selling subscriptions whether digital or physical products is a competitive business. We hope these tips help your e-commerce shop to slay it when it comes to creating powerful product pages!
If you have any questions or feedback please don't hesitate to get in touch.