Creating a single coupon in WooCommerce involves clicking through a few tabs on a settings page and entering values into fields.  If you only need to create one coupon, the total time of creating the coupon doesn't matter. Multiply the total time of creating a coupon by 10,000 or 100,000, and it's a chore that will steal time away from running your business.
If you run an online store with WooCommerce and want to create a group of coupons that you can give to customers or need 1000 coupons to give to a deals site like Groupon, this plugin will save you a lot of time!
Coupon Generator for WooCommerce is a free plugin available on wordpress.org that allows store owners to bulk create coupons for your WooCommerce store. It has been tested in creating up to 1 million coupons!
This plugin is very useful if you are in need of any amount of coupons to save a ton of time on manually creating them one by one.
Coupon Generator for WooCommerce
The plugin is available at WordPress.org for download, or you can do a plugin search from your site by clicking on Plugins, then Add New. Click the "Search plugins…" and type "coupon generator for woocommerce".  The entry will look like this: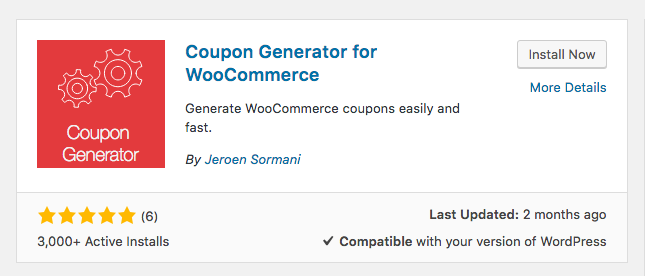 Press Install Now, then Activate to use the plugin.
Access the generator by logging into the site's WordPress dashboard, and clicking WooCommerce, then Coupon generator. The coupon creation process consists of an introduction and three steps. We will walk through each step below.
0. Introduction step
The introduction step explains the process of generating coupons. Read through the instructions if this is your first time and click 'Continue to the next step' when ready.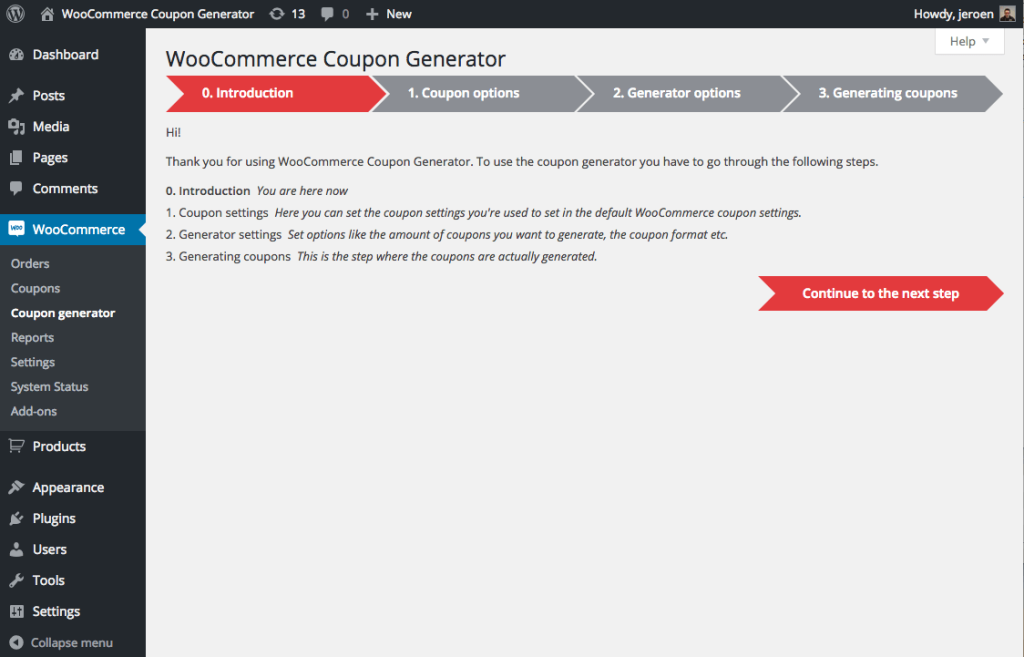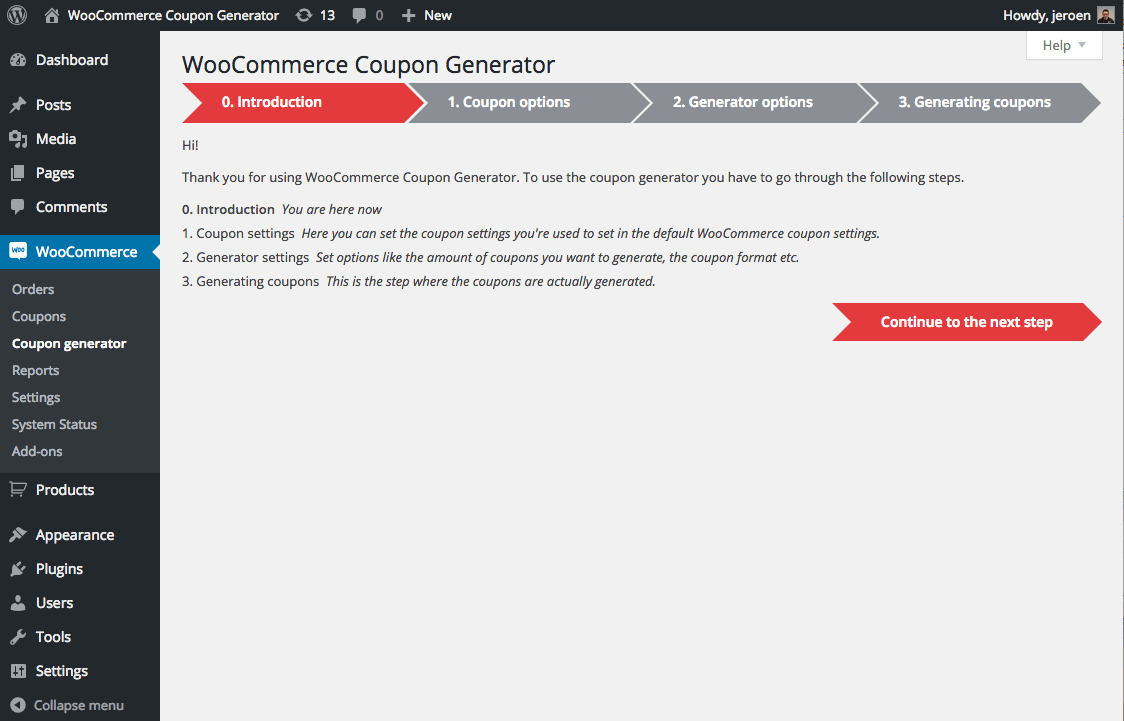 1. Coupon options
The first step allows you to set up coupon options. The screen will look very familiar if you've created coupons in WooCommerce before. It is the exact same screen as the official WooCommerce coupon settings. No options have been left out, so you can configure the coupons as needed.
If you need multiple coupons with different values, you will need to run the generator multiple times with the different settings.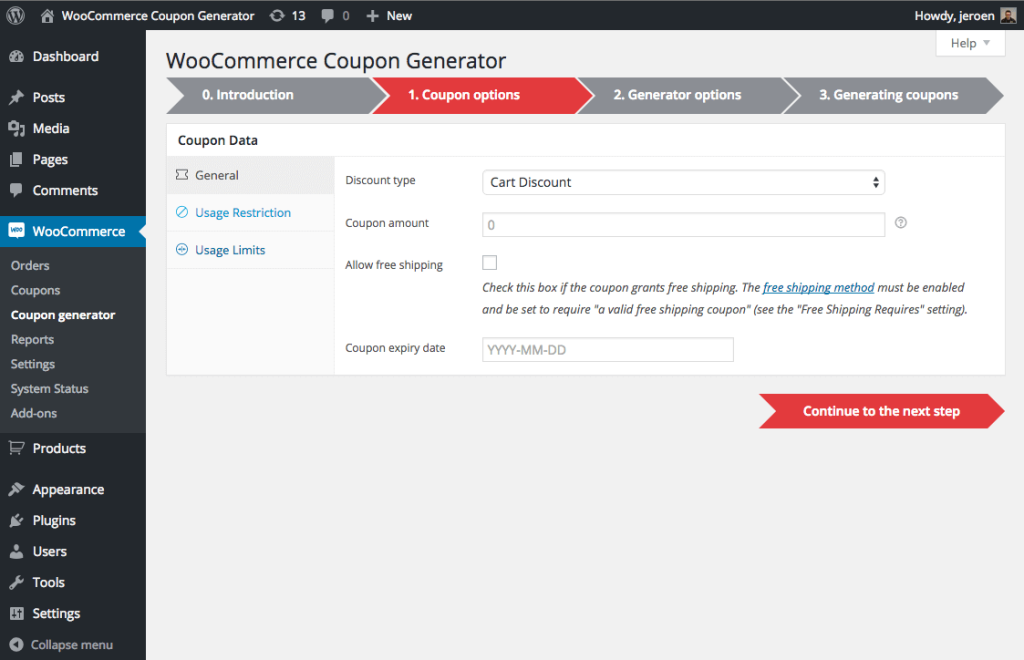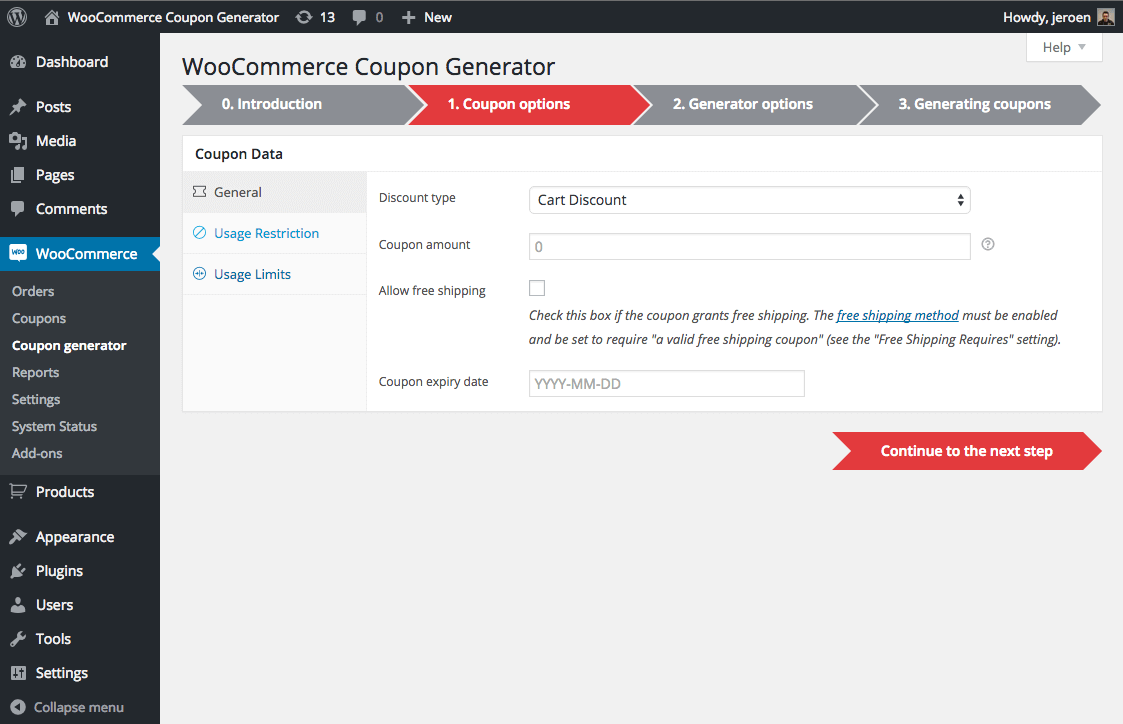 2. Generator options
In the Generator options step, select the number of coupons to be generated.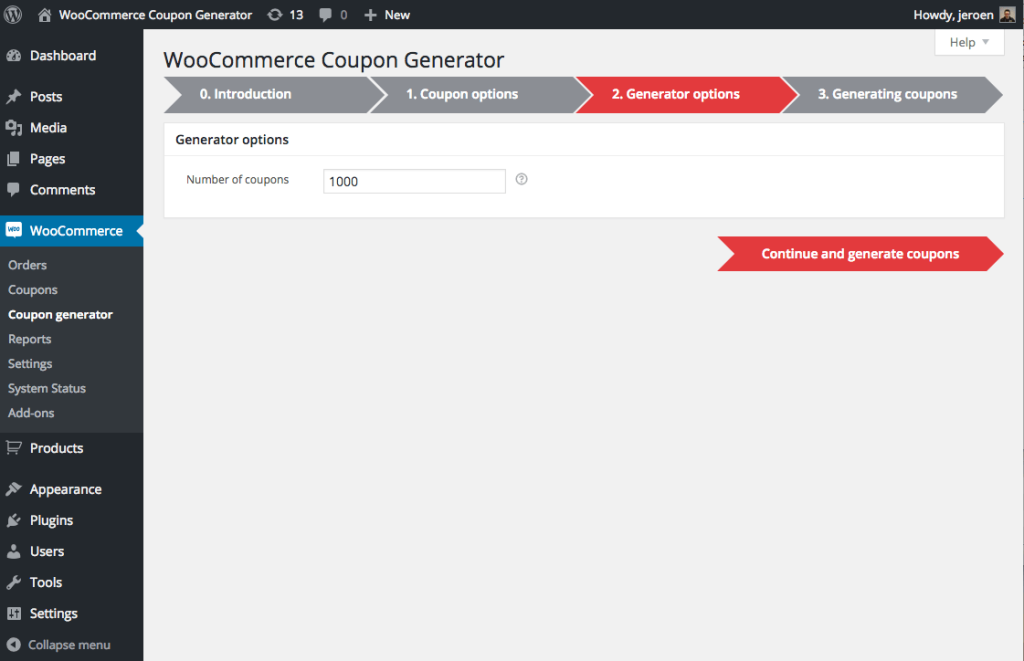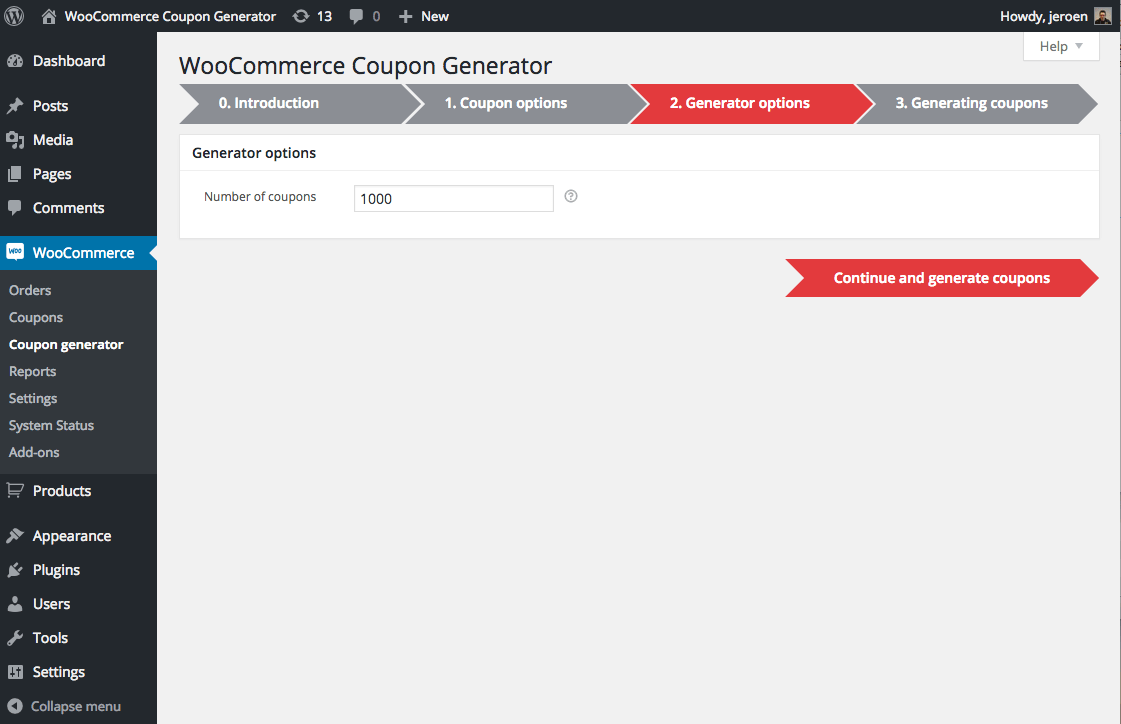 3. Generating coupons
This is where the coupon generation happens. By default, the plugin will generate up to 500 coupons per step. If the number of coupons to be generated is 10,000, then the generator will go through 20 steps to complete the process.
The time taken to create the 500 coupons per batch differs based on the server the site is hosted on. During the generation process, you cannot leave the generation page or the operation will be aborted prematurely!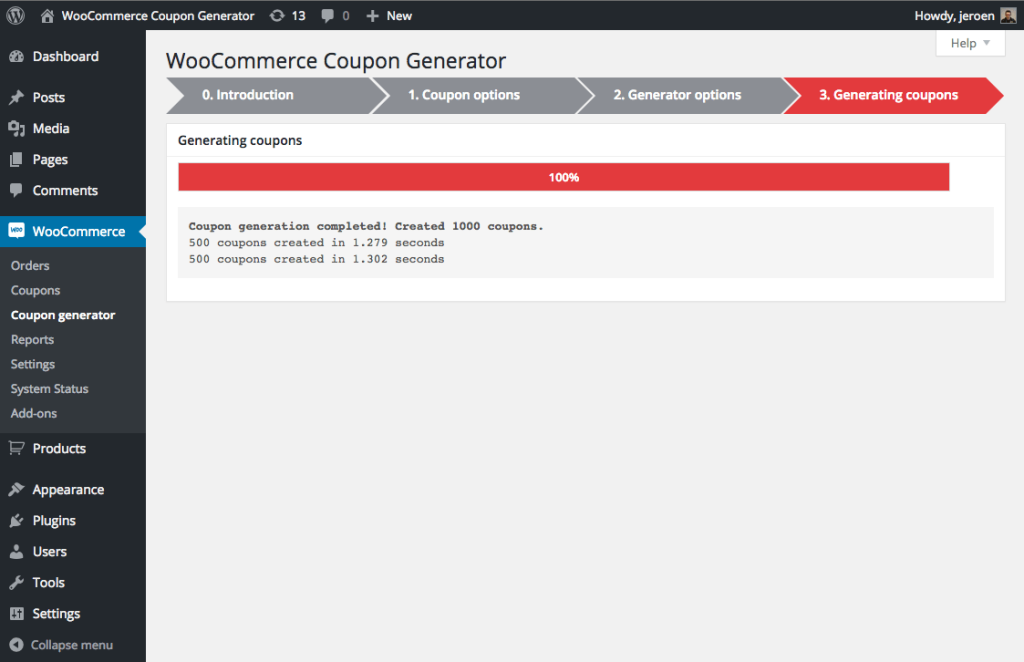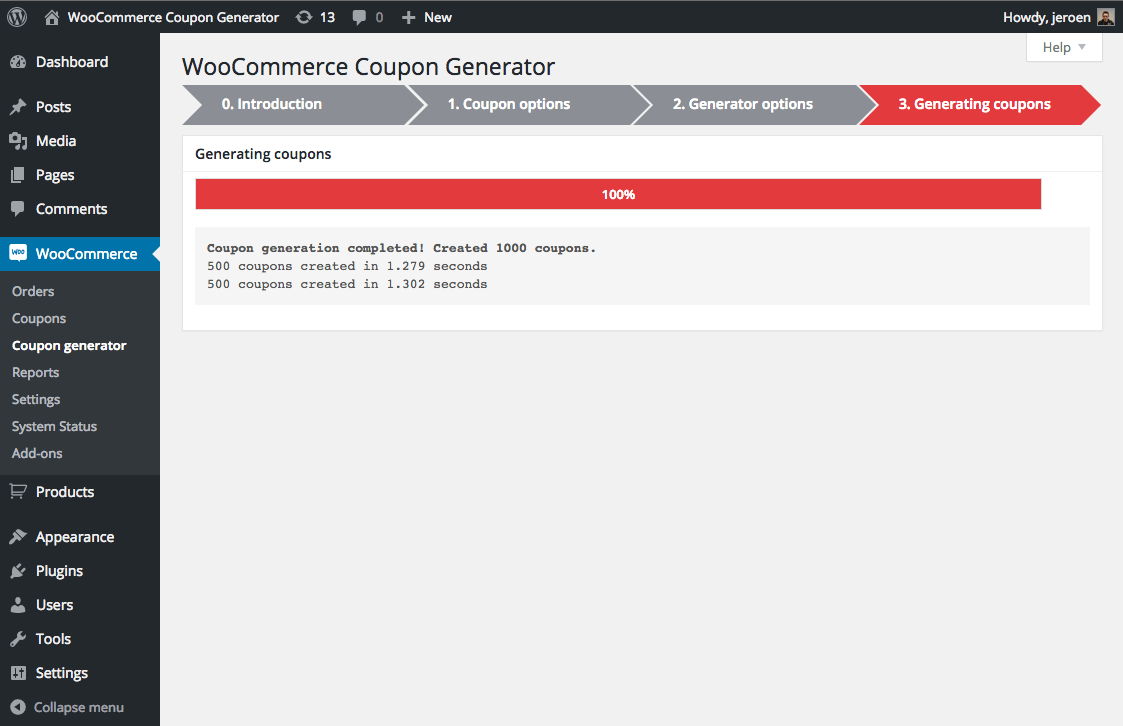 Performance
The coupon generation process has been optimized to be as fast as possible. It has been tested generating 1,000,000 coupons, which took about 50 minutes in total to create all the coupons on the cheap $5/month server (not specifically optimized). During the test, I could still browse the store front-end of the website without much speed loss.
The generation process still requires a lot of resources, so it may be a smart thing to plan ahead to run it when your site has low traffic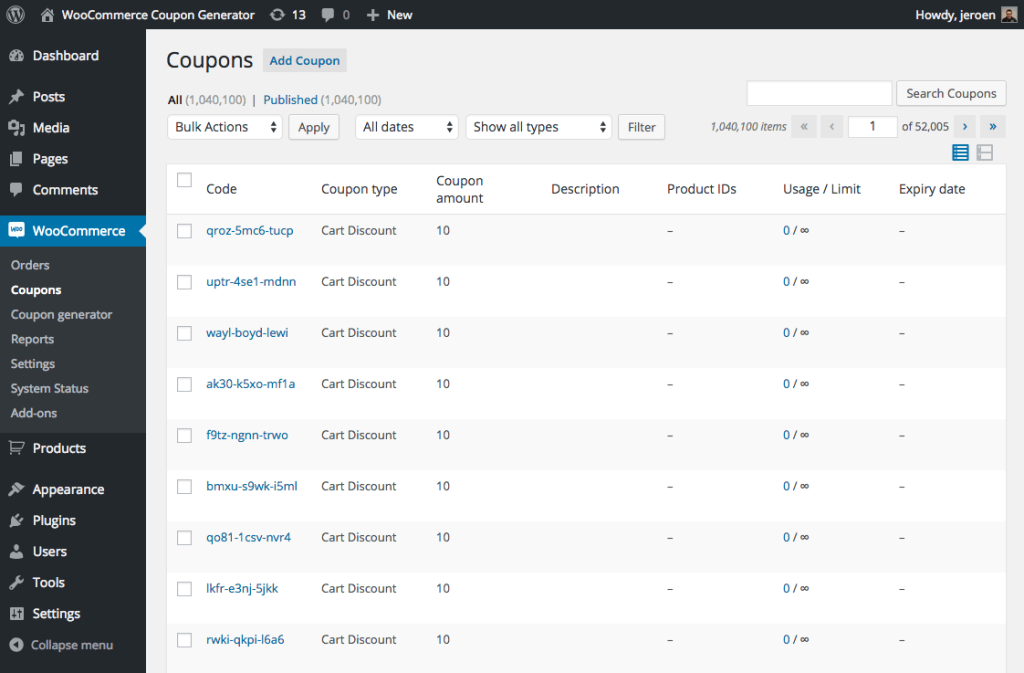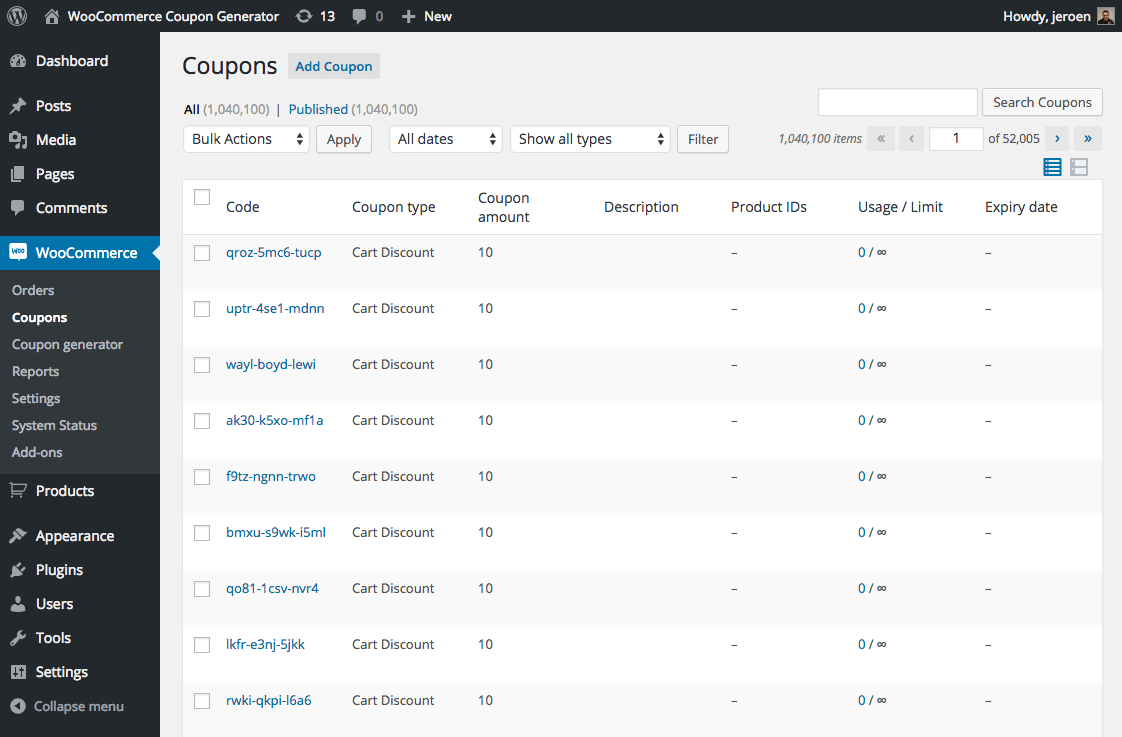 Questions & suggestions
If you have any questions or suggestions about the plugin, I'd love to hear them in the comments. You can get the Coupon Generator for WooCommerce on wordpress.org.
Get our best WooCommerce advice!
Delivered directly to your inbox
Keep up-to-date with the weekly newsletter
You will receive a bonus tips, actionable insight, and plugin updates every Wednesday!