Running an ecommerce shop is complex. There are many tasks store owners need to handle, such as customer service, inventory management, marketing, website updates, SEO, and order fulfillment, just to name a few.
With so many things vying for the attention of a store owner, we decided to compile a list of mistakes to avoid with WooCommerce.
10 Mistakes to Avoid When Selling with WooCommerce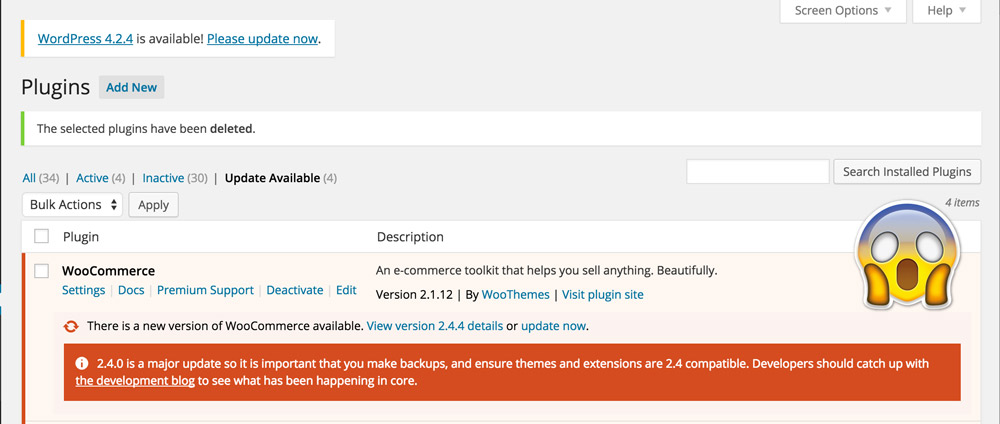 1. Running an old version of WooCommerce
WooCommerce ships a new minor version every six months. Last week version 2.4 shipped and the version before that shipped in February 2015. WooThemes and most third party developers support the current version of WooCommerce and one version back. That means if your store is running version 2.2 of WooCommerce, you won't be able to get official support for plugins.
We suggest testing your store on a separate install with the newest version of WooCommerce when it is released. Then when testing passes, you can install the new version in your production environment.

2. Not keeping plugins up to date
There are two risks that exist when running old, unsupported versions of plugins.
First, there may be security issues that were found and patched in the newest version. Running old code leaves your site exposed. Second, if you're using a plugin to integrate WooCommerce with a service like a payment gateway or shipping method and the vendor changes the way websites connect to them, your site will stop functioning.
You can repeat the steps of testing a new plugin in a staging environment then installing on production after it passes tests.

3. Ignoring the System Status report
There are a few common system misconfigurations that may cause trouble for your site. The WooCommerce plugin includes a very helpful System Status report that lists several facts about your site. Topics include PHP version, web server version, versions of plugins, availability of core functions, and currently active theme.
Items that normally cause trouble are color coded with red. Each step that is red will have an explanation of what the issue is. WooThemes also has a handy guide to understanding the WooCommerce system status report.
Don't ignore the system status report and make sure everything is "green" on this page to ensure your store is functioning properly.

4. Not setting specific Selling Locations
After the excitement of launch day, after the first orders come in, and after you joyfully order more product, that's when it happens. An order comes in from a country that you faintly know where in the world it is located, but you certainly don't know how to ship products to.
Next comes the process of notifying the customer that they won't be getting the products they ordered and refunding the money collected (sometimes losing money on a processing fee).
To avoid this hassle be sure to set which countries you will do business with using WooCommerce's "Selling Location(s)" option on the Settings > General tab. A related setting is the Restrict shipping to Location(s) setting on the Settings > Shipping tab that will restrict the countries available on the Checkout page's Billing and Shipping Address forms.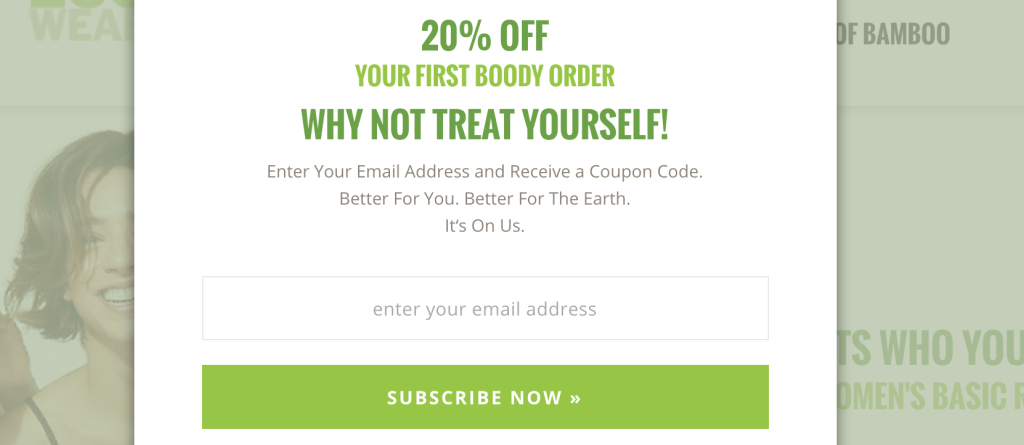 5. Not inviting customers to join your mailing list
It's a constant challenge for ecommerce stores to get customers to their site, and an even larger challenge to get customers to purchase. After these challenges wouldn't it be great to have customers invite you to contact them with information about your shop and products?
Staying in touch with customers is made easier by having an option on the checkout page for them to subscribe to your mailing list. Customers won't be any happier than when they are handing over their money for products, so it's a great time to ask them to join your list.
Once they are opted in to your list then you can share about promotions, new products, and other news that will keep your store and the excitement of their purchase at the forefront of your customers' minds.

6. Not using branded emails
Maintaining consistent branding across your site is important for a continuous high-quality presentation of your store. One area that might get overlooked is the design of emails.
By default WooCommerce comes with 9 emails that it sends. Each email is an HTML email and has default styling added. In the Emails section of the WooCommerce admin area, the store owner can set a header image, change email headers, change colors, and add footer text. Updating these settings is the bare minimum that should be done.
To go the extra mile you can use the WooCommerce Email Customizer to change the appearance of emails. This plugin makes it easier to update the design of your emails.
7. Not having a Pre-sales channel
No matter how exhaustive a product page is, customers might have questions before they are ready to buy. Having a pre-sales channel on your site can help give customers answers and build trust with speedy and informative responses.
Pre-sales channel can be an actual form that customers fill out, a live chat system, or a phone number. These options are listed in order of increasing commitment by the store owner, and decreasing friction for the customer. Make it as easy as you are comfortable with for customers to get in touch to find out about your products.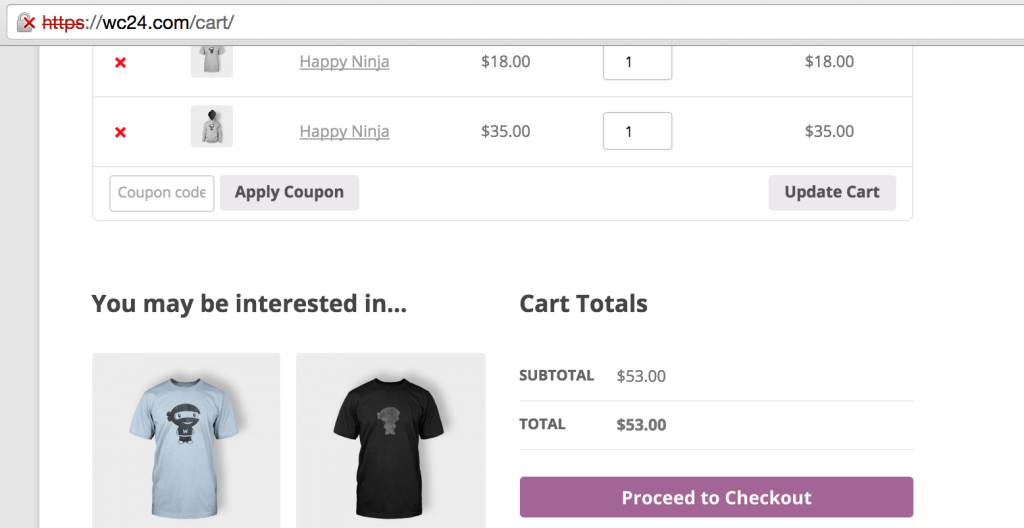 8. Not having a secure site
A major step to increasing confidence in your site for your customers is to secure vital areas with an SSL certificate. The checkout process and the My Account area are important areas to secure using HTTPS. Savvy customers will think twice before purchasing from a site that is not secure.
In addition to customer's negative responses to an insecure site, Google recently stated that they will be using HTTPS as a ranking signal. For now it is a small impact, but something to keep in mind as it grows in importance to the search engine.
9. Not displaying your USP's
USP stands for Unique Selling Proposition (or Point). This is whatever makes your product better than other products. Simply naming your product and listing what it does may not be enough for customers to be convinced or for search engines to differentiate your products from other products.
Using unique product descriptions that show a clear USP can set your products apart from the competition and engage customers.

10. Not offering free shipping
High shipping costs for products is a buzzkill for any online shopper. Instead of ending the party at the Calculate Shipping form, offer customers Free Shipping with a minimum order total.
Customers will be motivated to hit the order minimum to earn Free Shipping and will be glad to be receiving something for free.
Sell Mistake Free
We hope this list of things to avoid when selling with WooCommerce will help your store achieve more sales and happier customers!
✕
Get our best WooCommerce advice!
Delivered directly to your inbox