How Cart URLs Work
With WooCommerce Cart URL store owners can prepare a cart with products, variations, and quantities. The store owner will get a link (URL) to send to customers.
When the customer clicks on the link the pre-defined products will be added to their cart and they will be redirected to the Cart page.
Cart URL Settings and License
In the WordPress dashboard, hover over WooCommerce and click on Settings. Next select the Cart URLs tab.

In the License Key field add the license key sent in the order confirmation email. This will activate notifications of new versions and automatic updates.
Adding a Cart URL
Here are the steps for creating a Cart URL that can be shared with customers.
From the Cart URLs page press Add Cart URL.
Enter a descriptive Title.
If you want the customer's cart to be cleared before products are added, then check the "Clear cart when visiting this url" checkbox.
Use the "Redirect to" drop down to select a page to redirect the customer to after products are added. Default is the Cart page.
To add products type the name of a product or variation in the "Search for a product…" field.
Select one or many products in the field and press Add Item(s).
The products will be added to the Products list.
Press the pencil icon in the row of a product to edit the product's quantity.
To remove a product check the box next to the name, select Delete Lines in the Actions drop down and press the circle arrow button.
Once the cart is stocked with the correct products and quantities, press the Publish button.
The Cart URL can then be sent to customers to instantly set up their cart!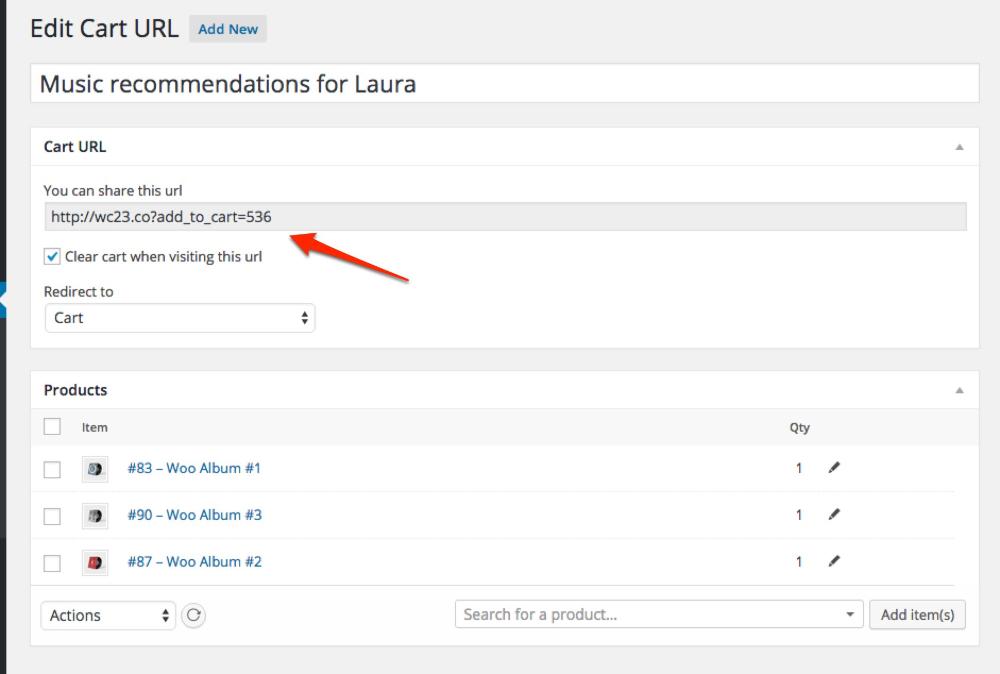 Deleting a Cart URL
To delete a Cart URL hover over the URL's name and press the Delete link.