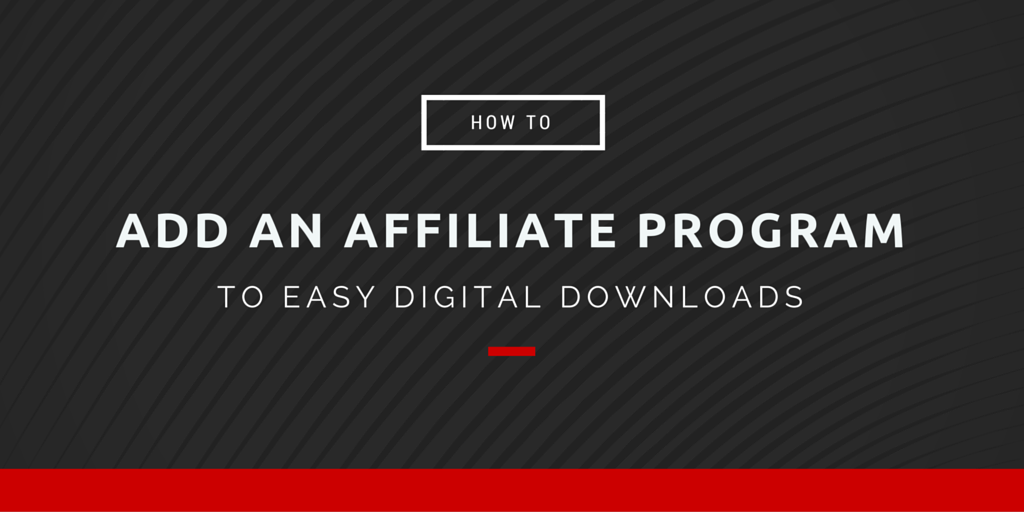 You may have heard about affiliate marketing, or affiliate programs, but what are they exactly? And how can ecommerce stores benefit from having an affiliate program?
What is an Affiliate Program?
An affiliate program is a way for 3rd party marketers (affiliates) to direct customers to a store and earn commissions on sales made by the referred customers. The marketers are only compensated when products are purchased, so it is in their interest to direct qualified customers to the store.
Store owners benefit from increased sales and can consider commissions paid to affiliates part of the marketing budget. Affiliates usually have access to customers in their network that the store owner wouldn't have access to.
Easy Digital downloads is a popular and free ecommerce plugin for WordPress that adds selling capabilities for digital and virtual products. Today we're going to take a look at how to add an affiliate program to EDD using the AffiliateWP plugin.
Software you will need
1. WordPress
You probably already have a website running WordPress but, in case you don't, setting that up will be your first step. In this tutorial we're focusing on the self-hosted version of WordPress available at WordPress.org.
2. Easy Digital Downloads
Easy Digital Downloads serves as the ecommerce engine of your site. It will allow you to create a catalog of products with prices, descriptions, and images. EDD also handles accepting payments and allowing access to downloads.
3. AffiliateWP
The third and main ingredient for your affiliate setup is the WordPress plugin AffiliateWP. The plugin can be purchased at their site and a license gets you access to one year of updates, support, and professional add-ons (if you purchase the Professional or Ultimate package).
Installing the plugins
Installing EDD and AffiliateWP is very straight forward.
Installing EDD
From your WordPress dashboard navigate to Plugins, then press Add New. In the Search plugin type "Easy Digital Downloads". Verify the first option is by Pippin Williamson. Press Install Now. The plugin will download and install. When it is complete press Activate.
Installing AffiliateWP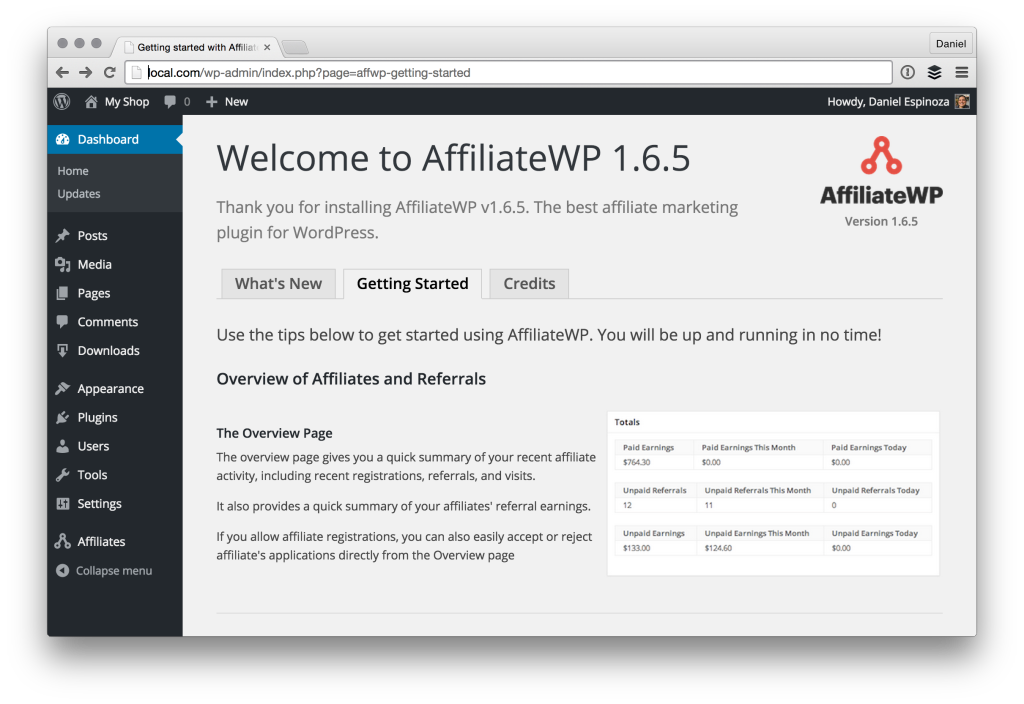 From your WordPress dashboard navigate back to Plugins, but this time press the Upload Plugin button. Press Choose File and select the AffiliateWP zip file downloaded from the AffliateWP account area. After the plugin has uploaded and installed, press Activate Plugin.
Your site now has EDD and AffiliateWP installed and active!
Setting up Products
Any product that is added to the EDD catalog is eligible for affiliate commissions. Adding EDD products won't be covered in this tutorial, but it's important to note that global affiliate rates will apply to all products. Also, there are two product level overrides available to shop owners:
Affiliate rates can be set on a product to override the global setting.
Affiliate commissions can be disabled at the product level.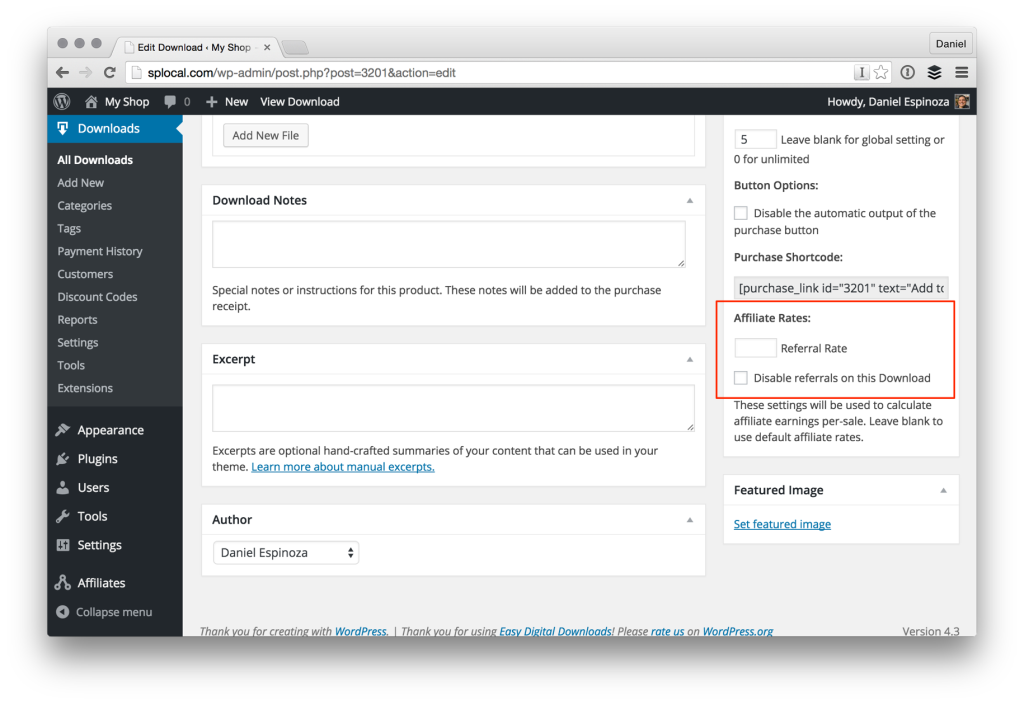 Setting up AffilateWP
To set up AffiliateWP from the WordPress dashboard, click on the Affiliates menu option.
General tab
On the General tab the first thing to do is enter the License Key sent in your purchase email from AffiliateWP. This will give you access to upgrade notifications and automatic updates of the plugin. Copy and paste the license key and press Activate License.
Next, set up two pages for use by the plugin. Set up a page to serve as the Affiliate Area where the site's affiliates will log in and manage their accounts. This page must have the [affiliate_area] shortcode added to the page content. A Terms of Use page is optional and will list out the rules of your affiliate program.
The Referral Setting section is for setting how AffiliateWP presents referral links and the commissions. Be sure to set the Referral Rate Type to percentage or Flat rate based on how your program will work. Also, be sure to set the Referral Rate field.
Note on Referral Rate: Setting your referral rate is an important step. If you set the rate too low, affiliates may not be interested in working for a low commission. If you set them too high, you run the risk of cutting into your profit.
The Currency Settings area will need to be set up based on your specific currency. Press Save Changes.
Integrations Tab
Click on the Integrations Tab, select the first checkbox for Easy Digital Downloads and press Save Changes.
Emails Tab
On the Emails Tab you can set the store logo to be included in emails, a template or plain email, and the names associated with the emails.
There are three emails that are sent by AffiliateWP:
Registration Email
Application Accepted
New Referral Email
The Subject and Content of each email can be set on this tab. AffiliateWP provides useful template tags for creating dynamic and personal emails.
Misc Tab
The final tab is a collection of checkboxes for how your affiliate program will function. Review each of these and check or not at your discretion.
Adding Affiliates
AffiliateWP uses native WordPress user functionality as a base for affiliates. To manually add affiliates, first go to the Users area and create an account for them. Any user role can be used.
Once each affiliate has a user account on the site, go to the Affiliates > Affiliates section of the site. This will be a list of all registered affiliates on the site. To add an affiliate press Add New. In the User field begin typing the name of the affiliate you are adding, then click on their name when it is shown in the search results.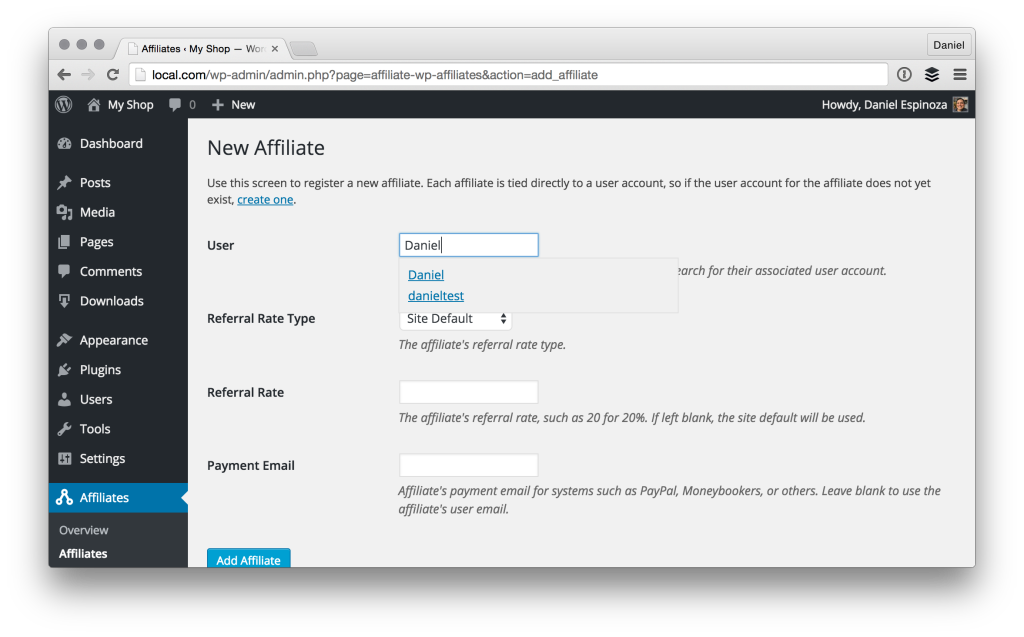 Set the Referral Rate Type, Referral Rate, and Payment Email for this affiliate and press Add Affiliate.
The new affiliate will now show in the main Affiliates list.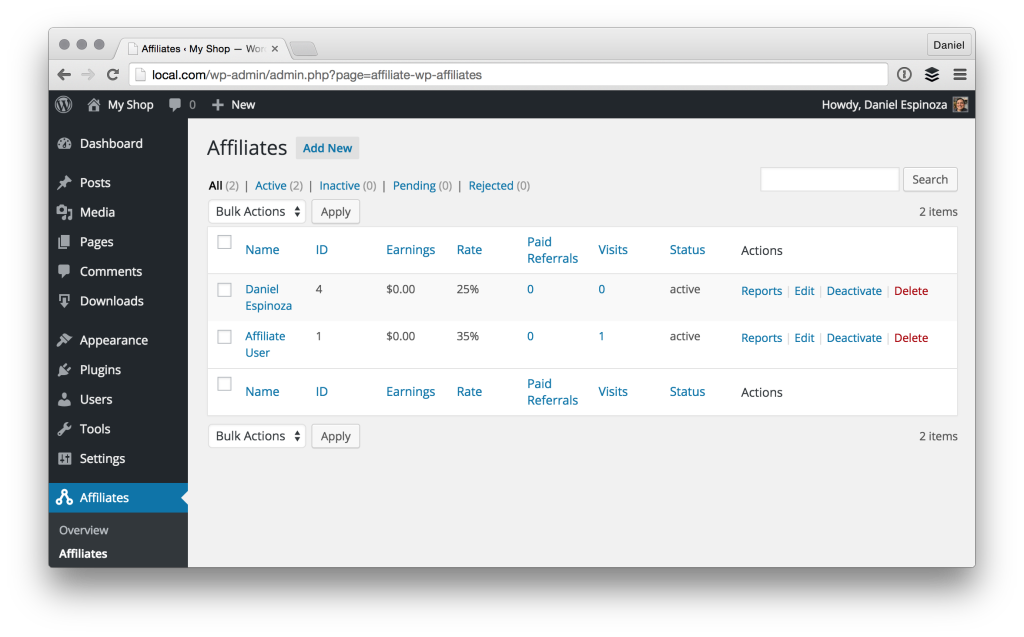 How Affiliates Earn Commissions
When Affiliates are registered and active on your site, they will be able to log in to the page that was set on the General settings tab for Affiliate Area. This page has information including Affiliate URLs, Statistics, Graphs, Referrals, Visits, Creatives, and Settings.
To get credit for referring customers to the site, an affiliate will need to use an affiliate URL. On the main page of the Affiliate Area is a section for Referral URL Generator. The affiliate can use the main site's referral URL, or use a form at the bottom of the page to create a referral URL from a page on the site.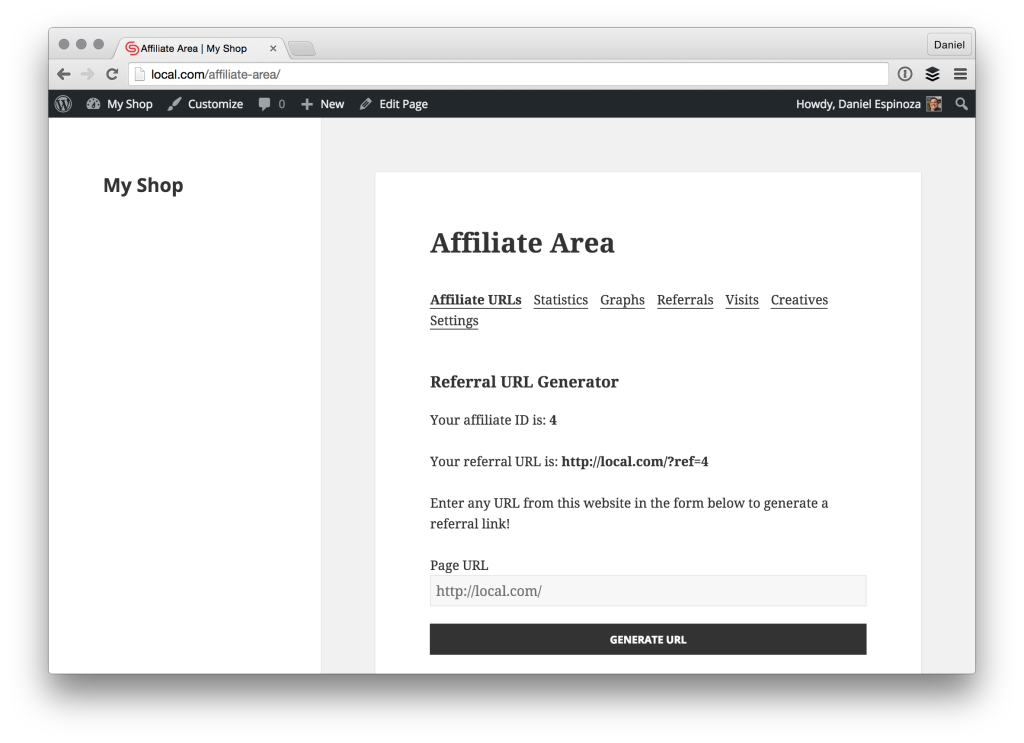 Affiliates will use these URLs in their marketing, and if a customer clicks through this URL, a cookie is set identifying the affiliate that referred them. When the customer completes a purchase, the cookie is checked and a commission is logged.
Paying Affiliates
Affiliates can generate referrals continuously, but your program will need to set guidelines on when those referrals will be paid out.  Payouts at 30 or 60 days after purchase are normal.
The main Affiliates > Overview page will show all the data related to your affiliate program at a glance. This page will fill up with useful data as affiliate links become active and start driving traffic to your site.
When commissions start to be earned and it's time to pay your affiliates, you can go to the Affiliates > Referrals page to see a complete list of referrals to your site.
Click the Generate Payout button to start the process. Enter in a date range for referrals to be paid and a minimum total amount. Press Generate CSV File to download the file and set all referrals in the range to Paid status.
Start Your Affiliate Program Today!
Affiliate programs are a valuable part of an ecommerce store's overall marketing strategy. Having experienced marketers with an extended reach working to bring your site qualified customers can boost your sales. Using AffiliateWP together with Easy Digital Downloads forms a solid foundation for your ecommerce business.
✕
Get our best WooCommerce advice!
Delivered directly to your inbox